New regional bus operator from 15 november 2021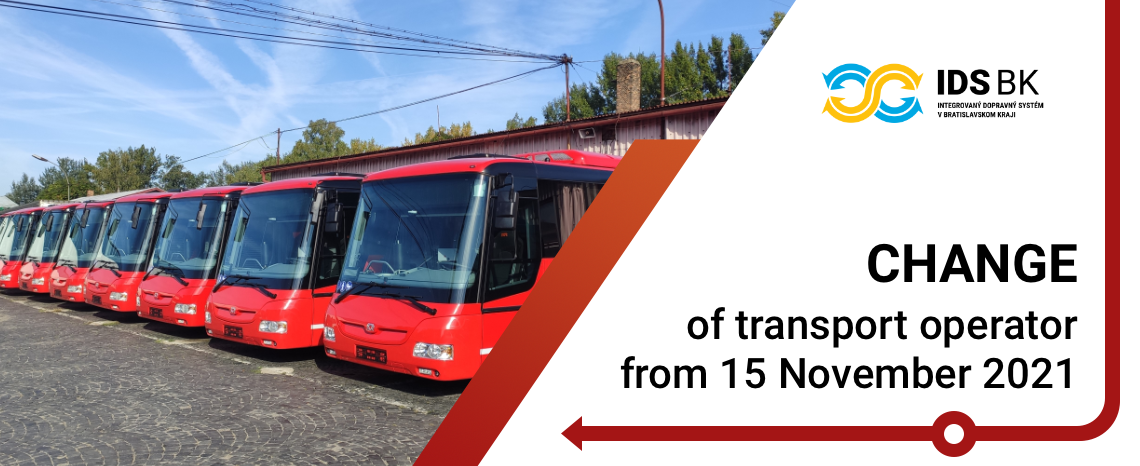 NEW REGIONAL BUS OPERATOR FROM 15 NOVEMBER 2021
Dear passengers.
From Monday 15 November 2021, there will be a change of the bus operator operating the regional bus lines within the IDS BK.
On this page you can find all the necessary information you need to know about the changes.
This website is being continuously updated taking in account your questions. Please, if you have any questions contact us directly by writing to info@idsbk.sk, or by telephoning on the number +421 948 102 102.
Change of the regional bus operator:
•A new transport operator, ARRIVA Mobility Solutions, s. r. o., will join the IDS BK
•The transport operator Slovak Lines will no longer be part the IDS BK.
•The new bus operator ARRIVA will provide transport services on all IDS BK regional bus lines.
•The change of the transport operator will have no effect on the validity of prepaid Travelcards on the contactless smart cards issued by the transport operator Slovak Lines. The use of all Travelcards issued by Slovak Lines and purchased before 15 November 2021 will not be limited in any way.
•Passengers will not lose any money topped up on the contactless smart cards issued by the transport operator Slovak Lines.
•The quality of travel will be greatly enhanced thanks to new buses which will be gradually introduced into service.
•All vehicles will be low entry.
•All vehicles will be fitted with a new modern information system consisting of:
o Outside information system consisting of LED panels enabling to show coloured line numbers and white coloured texts for better visibility
o Inside information system consisting of information LCD screens for showing the route and the possibilities of transfer to other lines.
•All vehicles will have a uniform red colour livery. The exterior of the vehicles will be designed according to the IDS BK Design Manual.
•The bus windows are fitted with dethermal glass which reduces the transmittance of heat into the vehicle.
•All vehicles will be fitted with CCTV cameras for increasing the security of passengers.
•All vehicles will be prepared for installing bicycle racks, which will enable the vehicles to carry more bicycles in the future.
•It will be allowed to place advertisements on the vehicles only in predetermined frames in the interior of the buses and also on the rear face of the vehicle, thanks to what there will be an undisturbed view out of the vehicle from every seat.
IDS BK Helpdesk
info@idsbk.sk
+421 948 102 102