CHANGES FROM 12. DECEMBER 2021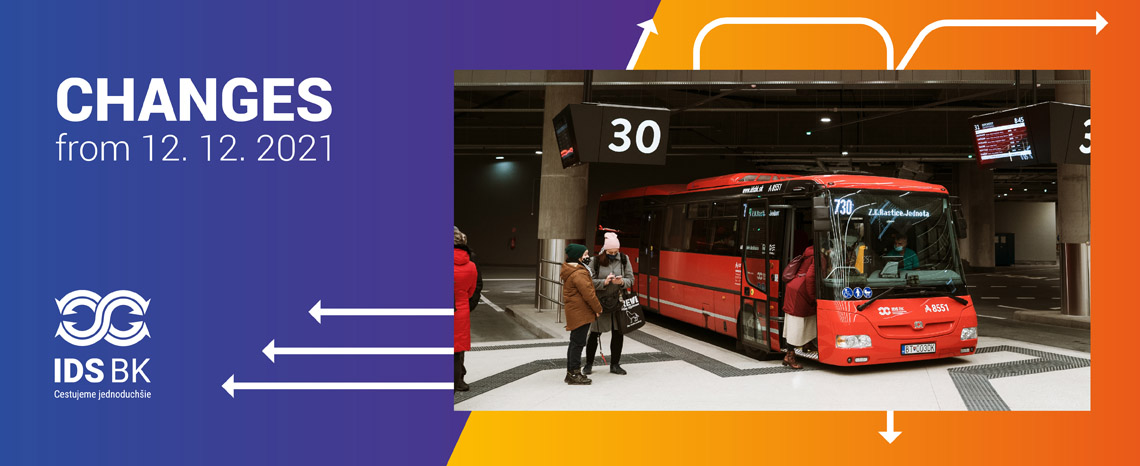 Changes From 12 December 2021
Dear passengers.
From Sunday 12 December 2021, timetables of transport operators in the Integrated Transport System in the Bratislava Region (IDS BK) will be changes in connection with timetable changes in the whole country.
Names of a bus stops in the region will be changed from the same date.
The published timetables are valid for full scale operation.
New timetables apply to regional buses operated by Arriva Mobility Solutions, to regional trains operated by Železničná spoločnosť Slovensko (ZSSK), and changes to selected lines will occur also in the Bratislava city public transport operated by Dopravný podnik Bratislava (DPB).
The new timetables can be found here: https://www.idsbk.sk/en/timetables/
From 12 December 2021, names of regional bus stops will be changed.
Selected regional bus lines are operating in a limited scale. The situation is getting better, the current number of operated services is around 75 % in relation to the normal situation.
Therefore, we advise passengers to follow the updates on the website of the transport operator: https://www.arriva.sk/bratislava/cestovne-poriadky/, where information on really operated services can be found in timetables updated daily.
In case you have any questions, please contact the IDS BK Information Centre:
info@idsbk.sk
+421 948 102 102