Complete Selection of Travel Tickets
How to choose the right ticket?
If you are buying a ticket from a ticket machine or a newsagents shop you have to know how many zones you will be travelling through, so that you can choose the right ticket validity. You can find the necessary information from the scheme of zones, from the timetable, or you can use the fare calculator on our website. All the zones from the starting to the destination point are included in the calculation, including the ones your connection just passes through without stopping. Every zone is taken in account only once, even if you travel through it more times during one journey. The Bratislava zone 100 counts as two, which means it has a double price value.
When buying the ticket in the transport operators ticket office or in a regional bus, it is enough to know where you are travelling to. In the case there are more alternative routes to your destination, you should also know which one you are going to take. The right ticket will be chosen automatically by the ticket selling system.
The Travelcards are sold only for specific zones. This means, that you have to choose the zones you need before you buy the Travelcard.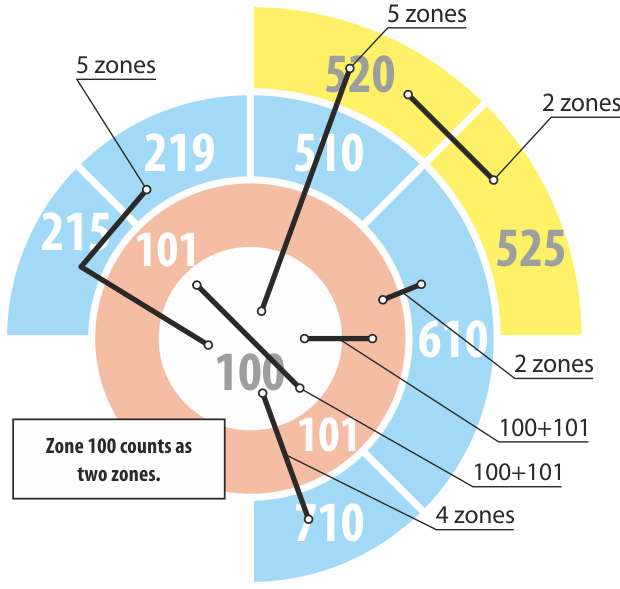 Examples of calculating the required number of zones
How much will it cost?

When you know what ticket you need, through how many and which zones you will be travelling through, you can find the price in the price list.
Where can I buy the travel ticket?

You can buy the tickets at all selling points of all transport operators integrated in the system, in ticket machines, in newsagents shops, in regional buses, and you can buy the Travelcards also through the internet.
SMS tickets are valid only in the vehicles of the Bratislava city public transport on lines 1 to 212, X1 to X99 and N21 to N99 and only in the zones 100+101.